It has been a busy week with the day job of delivering to customers, with a webinar with Oracle, Flexagon and a customer – Heathrow Airport. Plus two technical sessions for DOAG.
Webinar
The webinar is the latest step in the partnership between Capgemini and Flexagon. If you'd like to see it, the recording can be accessed here.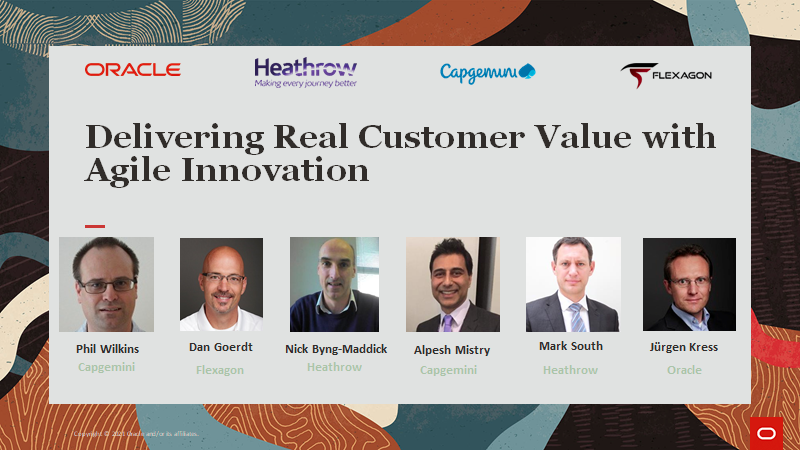 The webinar development was very much a team effort with Oracle providing the hosting and promo logistics (particularly from Jurgen Kress and input from Daryl Eicher). Presentation development effort with Flexagon (Dan Goerdt and Tanya O'Connor). Of course the great input from our Heathrow customers – Mark South and Nick Byng-Maddick.
We have another blog post related to the webinar sharing some more detail. This will be published in a week or so on blog.oracle.com.
DOAG
The Deutsche Oracle Anwendergruppe (DOAG) conference took place virtually this week. DOAG and the UKOUG events are probably the biggest of the European user group events. With UKOUG happening at the end of the month.
My presentations at DOAG have been an update on which GraphQL, gRPC or REST API technology to use (see the presentation material here), along with a brand new presentation, again relating to APIs. But this time we're looking at the application and capabilities of the Oracle Cloud's API which can allow us to manage a wide range of services (see here). While I don't have the demo piece recorded, you can see the slide aspect here.
Coming up
As mentioned I will be presenting at UKOUG Together. I have another brand new presentation for this as well, which will look at GitHub Actions combined with Oracle Cloud. We also have our first 2022 conference confirmed, in the form of API World.